Hi folks,
I signed up for my first ever National Novel Writing Month and I am so FREAKIN' excited.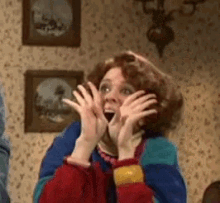 For those who don't know what that is, every November is National Novel Writing Month (or NaNoWriMo for short). If you sign up, you are committing to writing a minimum 50,000 word novel by the end of November.
I have so many friends who committed to running marathons or getting healthy and I have admired their ability to set a goal, go after it, and achieve it. And I thought, "man, I wanna do that, but like without running or changing my eating habits". And then I had this idea for a novel about a troupe of women who don't experience time linearly and I thought, "I feel like I would only finish this if I do National Novel Writing Month. I wonder when that is again *looks it up online* OH OKAY IT'S IN LIKE 7 DAYS. Guess I'm doin' it."  So I signed up and am fully committed to getting it done. Therefore, for November the only posts I'll be putting up will be excerpts and maybe even full chapters from my novel in progress. Hope you all follow along! I would love any feedback and support from my blog-reading champs.